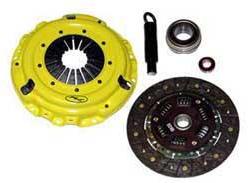 ACT Комплект Cцепления 3MPS/6MPS
Производитель:
ACT
Advanced Clutch Technology (ACT) has released a new Heavy Duty performance clutch kit and components for the 07-09 Mazda MPS3, 05-07 Mazda MPS 6.


ACTs new clutch kit for the Mazda MPS 3 and Mazda MPS 6 features a Heavy Duty Pressure Plate that incorporates hardened diaphragm fingers for decreased wear and provides a 48% increase in clamp force over the stock unit.


The ACT Street Clutch Kit combines the Heavy Duty Pressure Plate and a Performance Organic Disc, a disc that features special performance organic friction materials to withstand increased heat and abuse, steel backed linings for high burst strength and modifications engineered for quicker shifting. The ACT Street Clutch Kit provides increased pedal feel, smooth engagement and significantly improved consistency, durability and increases the torque capacity to 365 lbs/ft.


ACT Race Clutch Kits will hold 470 lbs/ft of torque.
Metallic Ceramic Xtreme Discs are available in 4 and 6 puck sprung and un-sprung hub designs and are very durable while allowing for quick shifting. The Xtreme Discs are design for high power engines and are recommended for track us only.


*NOTE: All kits with the ZX4 prefix will include our SFI certified billet steel flywheel, MZ027 pressure plate, RB110 release bearing, AT03 alignment tool and your choice of clutch disc. When replacing the factory self adjusting clutch kit with the ACT clutch kit, the ACT flywheel must be used for the clutch kit to be installed.


All ACT Pressure Plates and discs for the Mazda MPS3 and Mazda MPS6 are SFI certified. Kits include a new release bearing. ACT clutches deliver the maximum holding power by applying a series of sound engineering advancements to new (not rebuilt) components which maximizes load and reduces flex. The result is maximum torque capacity, long life and clean, fast shifting.
ACT is a premier clutch manufacturer that has more than 300 different applications and more than 500 performance clutch kits. The companys product line features clutches and forged flywheels for the most popular vehicles in the sport compact car market.
Цена: 990.00$


Постоянная ссылка на данный товар:
http://topspeed.ua/products/act-komplekt-ccepleniya-3mps6mps-1189.html