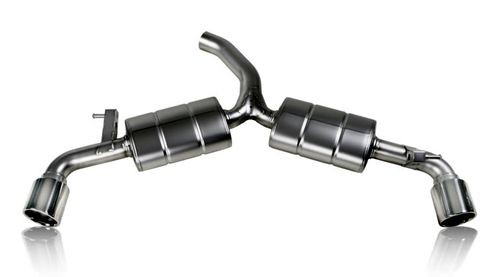 Akrapovic Выхлопная система SLIP-ON HOMOLOG WV GOLF VI GTI (2009-2010)
Part Number:
S-VWGMK6H-C
Производитель:
Akrapovic
Выхлопная система AKRAPOVIC серии SLIP-ON для Volkswagen Golf VI GTI

Kit:
"WV GOLF VI GTI (2009-2010)
SLIP ON SYSTEM (TÜV approved/Street legal) (e1*0310857*)
SS exhaust system with mufflers and carbon fibre - removable and adjustable round tailpipes dia 100 mm"

The Volkswagen Golf GTI is considered an icon in the world of automobiles. The GTI is also popular with tuners, who search for GTI accessories to improve its power and look. The Akrapovic Slip-On exhaust system with 100-millimeter tail pipes from precious titanium or attractive carbon fibers** proves to be the ideal choice that makes the 6th generation GTI even more beautiful and powerful as well as lighter. In this process, sound plays at least as an important a role as appearance and improvement of performance. The stock GTI's sound is already music to ones ears. However, the Akrapovic homologated Slip-On exhaust system makes its 2-liter 4-cylinder engine play a true sporty symphony, which offers the customer an option of acquiring a full racing upgrade with the use of a link pipe. The Slip-On magically creates a unique and recognizable deep Akrapovic sound, which you simply must listen to. The engineers also complied with the wishes of customers that want to equip their GTI only with unique 100-millimiter tail pipes from titanium or carbon fiber**, because the set can be ordered separately.
Performance

The numbers speak for themselves. The Slip-On exhaust system made of high quality stainless steel, with two mufflers and unique tail pipes (titanium or carbon fiber**) developed especially for the GTI, offers the originally 211 HP engine an additional power of 3.7 HP and torque of 6 Nm. Additions or more precisely losses can also be seen on the scale, because the homologated Slip-On exhaust system is 2.87 kilograms lighter than the stock exhaust. If you buy a system with a link pipe, the weight difference comes to 6.5 kilograms. The Slip-On improves responsiveness of the GTI's 4-cylinder engine and particularly improves the power between 1.800 rpm and 3.300 rpm – in the most often used range. It is difficult to refrain from pushing the GTI's 4-cylinder engine towards the red section on the rpm indicator, because not only does the exciting sporty sound (even race sound when using the link pipe) cause an adrenalin rush, so does the increase of power, which is particularly noticeable from 4.500 rpm on.

Slip-On system, homologated:
- 2 stainless steel end mufflers
- 2 titanium or carbon fiber tail pipes**

Facts:
- plus 3.7 HP (at 5.440 rpm)
- plus 6 Nm (at 2.830 rpm)
- minus 6.5 kg*

Optional
- link pipe
- 2 titanium tail pipes
- 2 carbon fiber tail pipes**

*With optional link pipe.
**In the development phase – please check status.





Цена: 2260.00$


Постоянная ссылка на данный товар:
http://topspeed.ua/products/akrapovic-vyxlopnaya-sistema-slip-on-homolog-wv-golf-vi-gti-2009-2010-3992-s-vwgmk6h-c.html