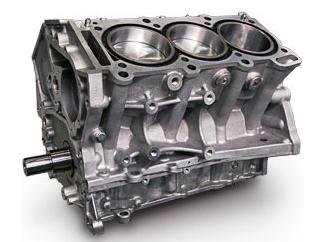 AMS GTR Alpha 4.0 Race Engine
Производитель:
AMS
We have successfully applied our race-winning experience to the GT-Rs VR38 to bring you the paramount in engine programs. By developing AMS proprietary engine components we have engineered the strongest, most advanced VR38 available for your GT-R.

Big Benefits, No Compromises

Our 4.0 liter Big-Bore Race Engine adds displacement but in doing so maintains a great peak RPM capability by increasing bore and not stroke. The result is an increase in power without compromising RPM limitations. With proper tuning and supporting modifications the AMS Alpha 4.0 Race Engine is capable to rev up to over 8,000 RPM!

In addition, we raised the compression ratio to further increase horsepower throughout the powerband. This increase also produces more low end torque which further reduces turbo lag and improves boost response.

By combining a larger bore size with an increased compression ratio we have achieved a 5-10% increase in torque and a 300-400 rpm improvement in turbo spool up time!

The Perfect Combination for Alpha Power

This race proven power plant uses only the best off the shelf and custom designed AMS spec. components. Combine that with the latest in machine and assembly practices and you are assured only the best!

Each block is precisely machined to accept Darton ductile iron sleeves. Once installed the block is then final bored, honed and align honed to ensure perfect clearances and fitment. The finished product allows for higher cylinder pressures and added strength and rigidity to the block.

Not Your Standard Off-the-Shelf Rotating Assembly

AMS worked closely with JE Pistons and Manley Rods to specially design engine components worthy of the Alpha program. The AMS Extreme-Duty Pistons feature improved oiling characteristics, Teflon coated skirts for reduced friction and extra thick ring lands for added strength. The AMS Extreme-Duty Connecting Rods utilize large 7/16" ARP 2000 bolts (22% larger than stock) for added durability and peace of mind.

Our Race Winning Experience Creates Higher Standards

To further improve the VR38 platform, each block deck is machined to receive a copper o-ring to establish a better combustion seal. Every Alpha 4.0 Race Engine is then precisely balanced, blueprinted and hand assembled to AMS' exacting standards. Before assembly each block is checked for correct dimensions, cylinder bore, mains, block flatness, etc… to guarantee you get the best foundation for your new engine.

Features
Great peak RPM capability by increasing bore and not stroke
Increased compression ratio for added horsepower and torque
5-10% increase in torque
300-400 rpm improvement in turbo spool up
AMS proprietary components for the strongest, most advanced engine program available
O-ringed block deck for a better combustion seal
Balanced rotating assembly
Precise, documented hand assembly
Custom compression ratios available
Includes
Sleeved AMS 4.0L VR38 block
Precision AMS spec machine work on block & crank
AMS Spec Extreme-Duty JE Pistons w/ skirt coating
AMS Spec Extreme-Duty Manley I-Beam rods
Connecting rod, main & thrust bearings
AMS machined big-bore head gasket set
Notes
The starting price is based on building your existing engine. For your convenience we can build your new engine with a brand new block and components for an additional charge
For optimum performance opening up the combustion chambers on cylinder heads is recommended.
Цена: 16500.00$


Постоянная ссылка на данный товар:
http://topspeed.ua/products/ams-gtr-alpha-40-race-engine-2116.html