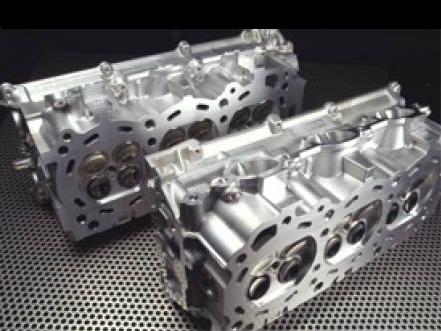 Cosworth Race ГБЦ 350Z/G35 03-07
Производитель:
Cosworth
Cosworth VQ35 CNC ported cylinder heads feature dyno tested and flow bench proven ports, engineered for maximum real world power. Each new cylinder head is ported on a 5 axis machine to ensure consistency and perfect port shape every time. Additionally, larger intake (+1mm) and exhaust valves (+1mm) are utilized to help increase flow. Cosworth CNC ported Big Valve cylinder heads come complete with a performance valve job, hi rev (max 10,500rpm) valve springs with titanium retainers and are ready to install. Perfect for big turbo applications or strong normally aspirated engines. Nissan VQ35 heads are priced for the pair. A flow chart for the head is available by downloading the technical document on the left.

Specification:

CNC Ported/machine finished ports - New OE Castings
Hand blended finish work
Intake 19% Increased Flow (max)
Exhaust 22% Increased Flow (max)
4-angle Inlet Valve job
3-angle & radiused Exhaust Valve job
Valves are lapped
Back-Cut Inlet Valves
Heads are Ultra Sonic cleaned prior to assembly
Heads are Serialized and sport a machined Cosworth logo
+1mm Stainless Steel Intake Valves (1800 degrees max.)
+1mm Inconel Exhaust Valves (2400 degrees max.)
Performance Valve Springs
Titanium Retainers
Hardened Steel Spring Platforms
Knife Edge port divider.
Цена: 4670.00$


Постоянная ссылка на данный товар:
http://topspeed.ua/products/cosworth-race-gbc-350zg35-03-07-952.html