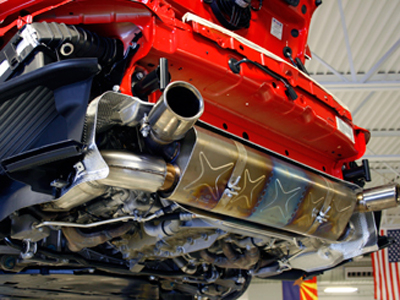 EVOMS EVT640 Porsche 997 GT2
Производитель:
Evolution MotorSports
Evolution MotorSports launches its EVOMSit Performance Engine Software and EVT640 Performance System for the new 997 GT2. The EVOMSit intelligent ECU Tuning, combined with EVOMS VTG Headers, Cargraphic 200 Cell Catalyst Pipes and EVOMS BRVs completes our potent performance system that produces a safe and effective performance gain from the 997 GT2 with bolt on components. Our EVT640 system replaces the restrictive ceramic catalysts with a more efficient 200 cell HJS metal substrate catalysts. Additionally, the restrictive OEM headers are replaced with our hand built VTG headers with pyramid merge collectors. The EVOMS headers have been engineered with the proper length and diameter primary tubes to match the flow and output of the modified GT2 engine. They are then ceramic coated to help keep the heat inside the tubes which helps with exhaust velocity and improved overall efficiency.
EVT 640 Includes:
-EVOMSit 997 GT2 ECU Tuning
-EVOMS Boost Recirculation Valves (Pair)
-Cargraphic 200 Cell Catalytic Converters
-EVOMS VTG Performance Headers

HP Output: 640
TQ Output: 646

All of the EVOMSit Performance Engine Software has undergone rigorous testing under extreme conditions. We have evaluated and tested with various octane fuels in the heat of the dry Arizona desert, the cool temperatures and humid weather of the California coast, the high elevation of the Colorado Mountains, the heat and ocean humidity of Mexico and the frigid elements of Minnesota.

-Massive Power and Torque Gain
-Improved throttle response
-Incredibly smooth power delivery
-Reduced EGTs
-Improved engine efficiency
-Tuned for 91, 93 and 100 octane fuels
-OBDII Emissions compliant
-Incorporates our IST (Integrated Switching Technology) and SP (Sport Pedal) functions.
Цена: 28650.00$


Постоянная ссылка на данный товар:
http://topspeed.ua/products/evoms-evt640-porsche-997-gt2-2177.html