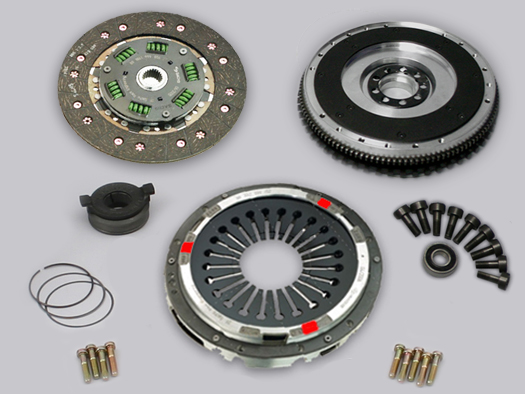 EVOMS Stage 2 RS Lightweight Сцепление Porsche 997/996
Производитель:
Evolution MotorSports
EVOMS / Sachs Race Engineering (SRE) Performance Clutches deliver more transmittable torque, more stability, longer life and superior thermal resistance as compared to the stock clutch systems. Our clutch packages have been designed for specific applications depending on engine power / torque and driving style. We have dedicated years of testing to ensure our customers get the exact clutch system to suite their needs. Our clutch systems have been developed not only for our highly tuned street vehicles but for vehicles competing in motor sports racing, endurance racing and drag racing.
Suitable for the following applications:
993/TT, 996 GT3, 997 GT3/RS, 996TT/GT2/X50, 997.1TT/GT2





Our ClubSport lightweight clutch conversion is designed for a more aggressive street application. It eliminates the heavy (28 pound) OEM dual mass flywheel and replaces it with our solid lightweight CNC machined billet aluminum flywheel which weighs only 18 pounds. This reduction in weight allows the engine to rev much quicker and respond much more responsively. This clutch conversion will transmit slightly more transmission noise into the cabin of the car. At idle speeds, there is a rattle sound that can be heard which is transmission noise that is typically absorbed by the OEM dual mass flywheel. If you are concerned with this increased clutch / transmission noise, this may not be the correct clutch conversion for your application. Please contact us directly so we can help determine the best setup for your application.
Stage 2 Aluminum Lightweight Clubsport Clutch Conversion Includes:

SRE "999" MotorSport Pressure Plate - 3800 lbs. of Clamping Force
SRE "Sport" Clutch Disk with Hub and Marcel Springs
EVOMS Aluminum Lightweight Solid Flywheel - 18 Pounds
SRE Throw Out Bearing
OEM Flywheel Bolts
OEM Pressure Plate Bolts
NOTE: Designed for engines producing up to 750 HP/TQ



The wide range of Performance Clutches, developed, designed and tested by EVOMS are more expensive than most clutch systems on the market. Quality components that have been carefully analyzed and tested are not cheap. Rest assured that in the long run, our clutch systems will out perform and out last cheaper, inferior clutch kits that are available. The amount of money saved by purchasing a clutch kit that has to be removed due to poor performance or failure will cost more time money and headaches in the long run. Our properly designed clutch systems have the following essential advantages:
Utilizes extremely high strength and properly matched friction materials - helps deliver more transmittable torque
Incorporates higher pressure plate clamping forces - helps deliver increased HP/TQ without slippage
Maintains excellent clutch engagement characteristics
Designed specifically for different power levels, driving styles and applications
Features heat treated friction surfaces for superior thermal resistance
Direct replacement for the OEM clutch system
Increased clutch life.
Цена: 3950.00$


Постоянная ссылка на данный товар:
http://topspeed.ua/products/evoms-stage-2-rs-lightweight-sceplenie-porsche-997996-2235.html