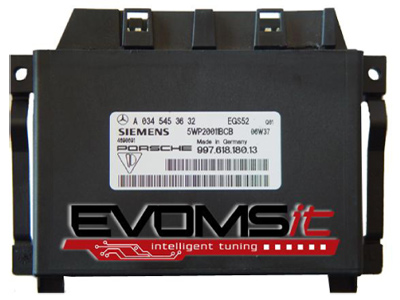 EVOMS Tiptronic Software Porsche 997 Turbo
Производитель:
Evolution MotorSports
Another Evolution MotorSports / EVOMSit first! Evolution MotorSports continues to demonstrate our successful and relentless pursuit of innovative performance products for Porsche vehicles. The 997TT Tiptronic Control Unit (TCU) is responsible for controlling the transmission functions such as shift speed, shift RPM, torque and many other transmission related activities. Our TCU upgrade safely upgrades these functions to improve the overall performance of the 997 Turbo tiptronic transmission. We carefully disassembled and monitored the TCU functions while driving on our AWD dyno as well as in normal driving conditions with an EPROM emulator. This allowed us to tune in real time and monitor the changes and how they affected the transmission performance. The final result is improved shift speeds, higher torque limits and raised rev limit to make use of all of the engines power up to 7000 RPMS.





The EVOMSit 997 Turbo TCU upgrade incorporates the following functions:
-Increased Rev Limit - 7000 RPMS*
-Increased TQ Limits - Massive Gains Below 4500 RPMS
-Quicker Shifts – Especially at Redline
-Quicker Acceleration Times
-Broader and More Usable Power Band

*The ECU rev limiters must also be calibrated to allow higher TCU shift points. We offer various different ECU/TCU programming options to suite your specific requirements. TCU must be sent to EVOMS for upgrade. Same Day Turnaround.
Цена: 1190.00$


Постоянная ссылка на данный товар:
http://topspeed.ua/products/evoms-tiptronic-software-porsche-997-turbo-2291.html