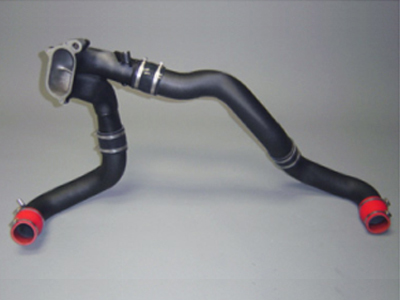 EVOMS Впускные Патрубки Porsche 996
Производитель:
Evolution MotorSports
Evolution MotorSports continues to lead the Porsche performance aftermarket with new and innovative products for the 996 twin turbo models. Our most recent product is our V-Flow 70mm polyurethane turbo fresh air inlet ducts. The OEM ducts are significantly smaller in diameter, which restricts the air feeding the turbochargers. This restriction causes increased turbo lag and an overall power restriction on higher horsepower engines. Our V-Flow air inlet ducts internal diameter is increased by as much as 60% in certain sections, which allows for more airflow and more power. Our system is a direct replacement for OEM system and will add more power and torque on any modified 996TT / GT2.





Features:

-Molded Polyurethane Pipes for a perfect fit and maximized air flow
-Improves boost response and overall power
-Reduces heat and improves acceleration
-Eliminates OEM restrictive cast aluminum and plastic duct


EVO V-Flow 996TT Fresh Air Inlet Duct Kit includes:
-V-Flow Polyurethane 70mm Air Inlet Ducts (3)
-70mm Silicone Hose Couplers (3)
-70mm to 57mm Silicone Turbo Reducer Hoses (2)
-Stainless Steel Hose Clamps (10)
-Machined Air Reference Port (1)
-Modified OEM Aluminum Distribution Pipe (1).
Цена: 1090.00$


Постоянная ссылка на данный товар:
http://topspeed.ua/products/evoms-vpusknye-patrubki-porsche-996-2297.html