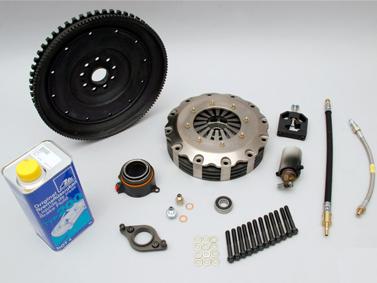 EVOMS/Tilton Carbon Triple Сцепление Porsche 997/996
Производитель:
Evolution MotorSports
Evolution MotorSports is proud to introduce the ultimate clutch package for high powered Porsche street and race cars. The EVOMS / Tilton Engineering clutch packages for the Porsche 993, 993TT, 996TT, 997TT, GT2 and GT3 are designed to handle over 1260 ft./lbs of torque without sacrificing drivability. This clutch was developed utilizing the experience Tilton gained through working with Porsche MotorSports on the 996 GT3 RSR race cars to deliver unmatched performance, reliability and quality. Our 7.25" triple disc carbon/carbon clutch kit package is a true bolt-on upgrade and includes all of the needed components to adapt this race bread clutch system for a street application.
Suitable for the following applications:
993/TT, 996 GT3, 997 GT3/RS, 996TT/GT2/X50, 997.1TT/GT2






Features:

Lightweight ~ 14.3 pounds which translates into incredible throttle response and a quicker revving engine
Massive power holding capabilities - rated at more than 1260 ft./lbs of torque
Street, drag, or road racing - can handle anything including stop and go driving
Direct replacement - complete kit
Bulletproof. The strongest and best option for a high power application – Bar NONE
Each clutch kit is dyno tested to ensure proper operation prior to delivery
100% serviceable and rebuildable



Technical Details:

Flywheel is machined from preheat treated billet steel and feature an integral ring gear and timing triggers.
Surface heat-treated after machining for the ultimate in durability.
Hydraulic release bearing features a high temperature mono-seal with a quad tensioner for leak resistance.
Constant contact design maintains pedal feel even as clutch wears.
Converts the OEM "pull style" clutch actuation to a "push style" for a more precise and shorter pedal travel.
Includes all of the needed components for a trouble free installation.
Цена: 8090.00$


Постоянная ссылка на данный товар:
http://topspeed.ua/products/evomstilton-carbon-triple-sceplenie-porsche-997996-2265.html