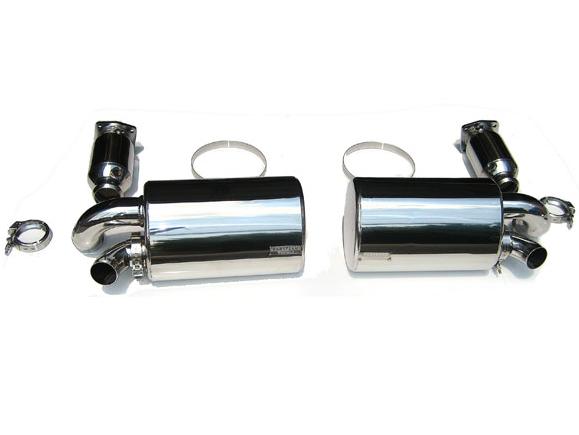 Fabspeed 63.5mm Maxflo Выхлоп Porsche 996
Производитель:
Fabspeed
-Fits all 996TT/X50/GT2 Vehicles 1998-2005 TipTronic/Cabriolet
-+40 HP on stock 996TT and up to +55 HP on GT2 and modified twin turbos
-Highest quality T304 stainless steel, 2.5" 63.5mm tubing that is C.N.C. mandrel bent. Significantly improved exhaust gas flow
-Backpressure is reduced by over 50% versus a factory Porsche 996TT system
-Imported high-performance metallic catalytic converters and FabSpeed's INNOVATIVE modular design that allows changes to exhaust sound and power.





Features

-Mirror polished T304 stainless steel. Show car shine!!!
-Simple and easy bolt-on, the fastest and most simple system to install on any 996TT
-Saves 25lbs from the rear of the 996TT, increasing handling
-Porsche factory warranty. Fits all cars worldwide
-No check engine light
-Guaranteed to make more power and have better deep exotic sports car sound than any other 996TT exhaust in the world. FabSpeed 996TT Maxflo exhaust was independently DYNO tested and PROVEN to make significantly more power then RUF, ROOCK, EUROPIPE, B&B, GHL, modified stock exhaust systems, FVD, and AWE Tuning.
Цена: 3590.00$


Постоянная ссылка на данный товар:
http://topspeed.ua/products/fabspeed-635mm-maxflo-vyxlop-porsche-996-2195.html