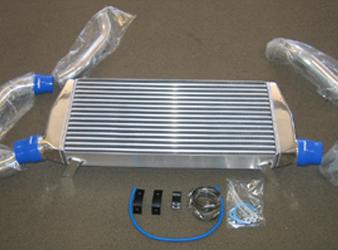 Greddy Spec-V Фронтальный Интеркулер WRX 02-07/STi 02-08+
Производитель:
Greddy
While this intercooler is one of the cheapest on the market, there is a significant amount of modification required for installation. This is a small core interccoler that will remove your WRXs foglights and require modification to the factory bumper beam for installation. In addition, the piping makes no provision for a blow-off valve (BOV), so you will need to either fabricate a flange to use your stock BOV or purchase a universal BOV and weld-on aluminium flange. This intercooler is reccomend for smaller turbos; the tube and fin core does not flow well for high-power applications.

V-SPEC Intercooler: This design was developed to allow for larger cores that give good cooling with a more free flowing internal core. This is ideal for applications with low to medium-high boost levels in factory turbocharged engines or normally aspirated engines with bolt-on turbo kits.
KIT INCLUDES:
Front Mount Intercooler Core
Intercooler Piping Kit
Silicone Couplers and Clamps

PLEASE NOTE: A short ram intake (sold separately) is required with this kit.
Modification to the factory bumper beam is required with this intercooler.

DIMENSIONS: 23.5" x 9.5" x 3"
Цена: 1250.00$


Постоянная ссылка на данный товар:
http://topspeed.ua/products/greddy-spec-v-frontalnyj-interkuler-wrx-02-07sti-02-08-141.html