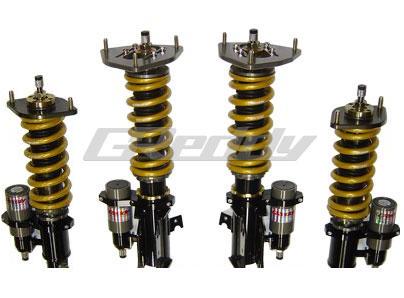 Greddy Type-R Стойки WRX 02-07/STi 02-07
Part Number:
14062303
Производитель:
Greddy
GReddy Type R suspension systems feature a double-adjustable damping mechanism that delivers 32 positions of damping compression and rebound adjustability each way, thanks to a large port on the piston with a specially designed needle valve. Users are able to independently adjust height without altering piston stroke via threaded collars that enable fine millimeter adjustments. This feature allows users to modify spring pre-load independent of ride height adjustments. The culmination of these engineering efforts is a suspension system with broad tuning characteristics that provide sufficient damping force even below 0.1 m/s of compression motion, smooth overall damping and the ability to tune them for virtually any track surface.
Each Type R strut features a thin-walled steel case for the optimum balance of strength (stiffness) and light weight. A lightweight external forged aluminum reservoir undergoes hard metal surface treatment to withstand abrasion and enables the system to increase damping fluid displacement while maintaining low gas pressure for a broad spectrum of damping capability. This range of dampening even allows for adjustability for street driving. Type R shock absorbers feature a mono-tube piston design and are larger than stock (46mm) for incredible stability, even during high-speed acceleration and transitions. The Type R system's adjustable pillow-ball mount replaces the stock rubber mount to reduce flex in between the chassis and suspension mounting points and provide for camber/caster adjustment for improved traction.
Цена: 2250.00$


Постоянная ссылка на данный товар:
http://topspeed.ua/products/greddy-type-r-stojki-wrx-02-07sti-02-07-418-14062303.html