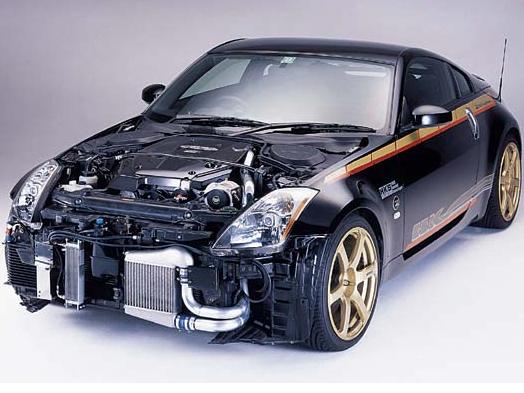 HKS Supercharger Kit 350Z/G35 03-07
Производитель:
HKS
The HKS Rotrex Supercharger Kits for the 350Z are the latest in forced induction systems for the aftermarket. The centrifugal type supercharger features a unique traction drive, with a closed oil circulation system. The traction drive utilizes fixed ratio planetary rollers that are more efficient then traditional gear-wheels. Because the planetary rollers do not have teeth like traditional gear-wheels noise is decreased and reliability is increased. The closed oil circulation system cycles a specially-formulated Traction Oil that lubricates and cools the supercharger, dramatically increasing longevity and reliability. The Traction Oil is cooled through a liquid to air oil cooler included with each kit.

All HKS Rotrex Supercharger Kits are developed as complete bolt-on systems. For certain applications HKS will include a front-mount air-to-air intercooler, Super Mega Flow intake, Bypass Valve, additional injectors, upgraded fuel pump and S/C Fuel Computer. Also included with each kit is a high-performance cast aluminum bracket which has been precisely engineered to reduce noise and vibration.

Base PSI - 7psi. Base Power - 315hp. Compressor - Rotrex C30-94, HKS Turbine, Centrifugal with planetary friction rollers. Intercooler - Air-to-Air front mount intercooler (1/2 width). Piping - Mandrel bent aluminum intercooler piping, Cast aluminum intake tube. Fuel - Upgraded fuel pump, 2x 525cc add-on injectors (inside plenum). EMU - HKS FCON S (direct plug harness). Air Filter - HKS Super Mega Flow Intake Filter. Blow Off Valve - HKS Standard Bypass Valve.
Цена: 6630.00$


Постоянная ссылка на данный товар:
http://topspeed.ua/products/hks-supercharger-kit-350zg35-03-07-943.html