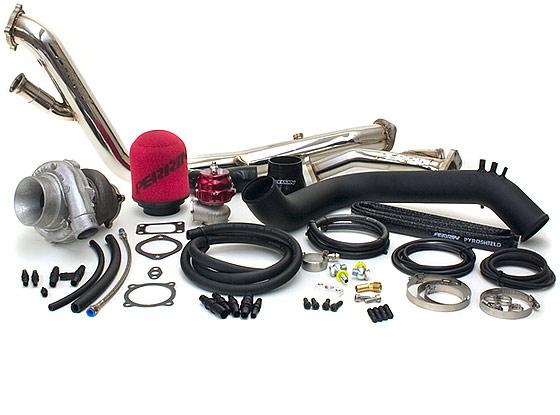 Perrin GT3582R Турбокит
Part Number:
PSPENG87X
Производитель:
Perrin
These are the last of the "old-style" Perrin GT3582R turbo kits for the WRX & STi, so get them while they last! The difference between these GT3582R kits and the new-style Perrin turbo kits are as follows: These kits have a blue silicone intake with a MAF sensor provision, use a T31 2.5" outlet Garrett turbo housing instead of the standard 3" housing (Perrin has said there is no difference in performance), and these kits use a short-ram rather than cold air intake. Like anything superceded, however, here is your chance to pick up a Perrin rotated mount turbo kit at a great price with MAF sensor functionality.
The old-style Perrin GT3582R WRX & STi rotated mount turbo kits include a 3" intake with oversized MAF housing that steps up to 4" to attach to the turbocharger. This intake completes the turbo kit by moving the inlet piping to the engine bay instead of under the intake manifold. This allows for unobstructed flow and enlarged piping. The Perrin rotated intake system has provisions for the factory PCV and vent lines, making it plug-and-play for your 02-07 WRX/STi.
In addition to the oversized MAF, and factory hose provisions, the Perrin WRX/STi rotated mount turbo intake kit also includes an aluminium adapter pipe to mate the Perrin WRX & STi rotated mount turbo kit to a Perrin Front Mount Intercooler.
Цена: 3650.00$


Постоянная ссылка на данный товар:
http://topspeed.ua/products/perrin-gt3582r-turbokit-153-pspeng87x.html