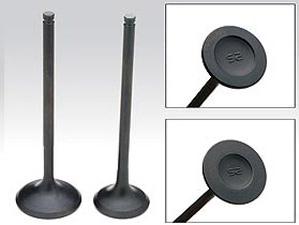 Skunk2 Клапана +1mm / Std Accord 03-07
Производитель:
Skunk2
Skunk2 designs, develops and tests all of our valvetrain components in-house to ensure the highest quality and greatest performance gains. During development, all valvetrain components are tested in engines both on the dyno and on the road. Manufactured from the best materials available, our valvetrain components provide exceptional performance, reliability, and quality. Skunk2 valvetrain components are standard issue on all the project cars and race cars we build and support, and are available in our premium Pro-Series line and our Tuner Series line, both offering exceptional performance, reliability, and quality.

Made from lightweight EV8 stainless steel one-piece forgings that are heat treated using a proprietary heat treatment process for exceptional strength and durability. Skunk2 valves feature a special hardened tip which will not deform or gall when used with high-lift camshafts. Though many aftermarket valves look similar, Skunk2 forged valves feature specially designed valve head profiles to optimize airflow when used with stock or performance valve jobs. After CNC-machining and polishing, a black nitride coating is applied to reduce friction and increase wear resistance. Skunk2 Racing valves are available in stock and over sizes in both standard and high compression styles.
Цена: 430.00$


Постоянная ссылка на данный товар:
http://topspeed.ua/products/skunk2-klapana-1mm-std-accord-03-07-1101.html