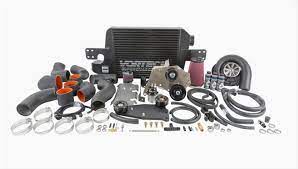 Vortech V-3 Si-Trim Supercharger Tuner Kit with Charge Cooler
Part Number:
4GT218-118L
Производитель:
Vortech
More Power. The stock 2016-2018 6.2L Chevrolet Camaro SS came from the factory with an impressive 455 horsepower and 455 lb/ft of torque (at the flywheel). However, after installing a Vortech V-3 Si-Trim Supercharger Tuner Kit with Charger Cooler you will see horsepower numbers of up to 775 or more, depending on fuel upgrades and tuning.

Tuner Kit. The Vortech V-3 Supercharger comes with a V-3 Si-Trim Gear Driven Centrifugal Supercharger, Aluminum Air-to-Air Charge Cooler, Maxflow™ Race Bypass Valve, mandrel bent aluminum tubing and all the required parts and hardware needed to upgrade your mild manner vehicle into a wild snarling muscle car. Custom dyno tuning is required for operation. Does not include fuel system upgrades (injectors) or programmer.

V-3 Si-Trim Supercharger. The "i" in Vortechs V-3 Si-Trim supercharger stands for improved. Continued development at Vortech resulted in a new patented internal oil control system and a state of the art centrifugal compressor stage that literally blows away the competition. Industry leading 78% adiabatic efficiency [SAE J1723 standard] means less heat is being generated, drive power is reduced and more net power is produced. Less heat also means better durability.

Application. This Vortech V-3 Si-Trim Supercharger Tuner Kit with Charge Cooler; Polished Finish is designed to fit 2016-2018 6.2L Chevrolet Camaro SS models.

Technical Note. The included Maxflow Race Bypass Valve is adequate for the pulley/boost output this system produces straight out of the box, however a Maxflow BV57 Valve is recommended for those looking to change pulleys to increase the boost beyond the included combination.

Please Note. Vortech Supercharger Systems are built to order by Vortech for our customers. Because of this, there can be a 5 to 7 business day lead time on orders.



Цена: 6750.00$


Постоянная ссылка на данный товар:
http://topspeed.ua/products/vortech-v-3-si-trim-supercharger-tuner-kit-with-charge-cooler-4916-4gt218-118l.html